Evening Out Formal Wear

Evening Out is committed to providing our customers with the best shopping experience. Our professional staff has years of experience and knowledge of the formal wear industry. In most cases, they will help you find the tux you're looking for or recommend a suitable option.
Evening Out Formal Wear
Larger Selection. Affordable Prices
Evening Out Formal Wear is the best one stop shop for formal wears tuxedos and accessories. Being the largest in Central Alabama means the largest selection of formal wears, tuxedos, and formal wear accessories from the best designer. It also means the most affordable prices in Central Alabama.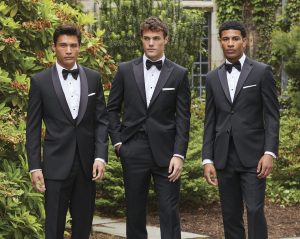 Getting Fitted
Getting properly fitted is very important. A perfectly fitted mannequin always requires a 40 regular jacket and a 32 waist pants, but to attain that same look on a person it requires extensive training and experience. Weather big or small, short or tall, our staff is fully trained on how to properly measure all body types. If you are submitting measures from another formal shop, our skilled professionals are able to identify any inconsistencies and address them with you to achieve that desired fit. Nevertheless, If all fails our alterations department is able to make any final adjustments to your satisfaction. Simply said, "getting properly fitted" will determine whether it looks like you're wearing the tuxedo, or the tuxedo is wearing you.
Weddings|Cotillions|Coronations|Balls
For that special formal affair, we have the perfect formal wear.